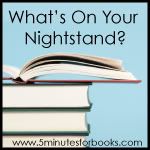 This month found me reading
Different by Sally and Nathan Clarkson.  This book really deserves a full review by me, the mother of a "different" child.  What our family has experienced over the past year (which was simply the end of a few years of mystery and the beginning of years, or a lifetime, of an official diagnosis) made this book resonate with me on so many levels.  One of my children now has an official OCD diagnosis.  I could write volumes about what we've learned and share our experiences in intensive OCD treatment, but this blog really isn't the right place for that.  However, I can say that OCD is something that is always present in our lives. Thus, reading Nathan's story from both Sally's and Nathan's point of view was comforting and encouraging to me.  I found it helpful to read Nathan's point of view because it helped me understand my own child a little bit better.  (For the record, Nathan has more diagnoses than "just" OCD.)  I always love getting Sally's perspective on anything, but reading how she coped with Nathan's particular struggles was particularly helpful.  I wish I knew more about exactly how they handled certain issues (like I wish I could've been a fly on the wall!), but that isn't the first time I've wished for a front-row seat to the Clarksons' lives.  I give this book a Highly, Highly Recommended to any parent who has an "out of the box" child.
I snagged The Nightingale by Kristin Hannah when it was a Kindle deal because it seemed like everyone from my cousin, the most voracious reader I know, to the nurse at the dermatologist's office had recommended it to me.  I chose it as my Kindle book-of-the-month (which I mostly read while drying my hair or sitting in a dark room waiting for my boys to go to sleep).  However, I finally had to just take this book as my book-I'm-reading-now book instead of just my Kindle book (make sense?) because it is so good!  Because it contains language and some sensuality, this is definitely an adult book, but the subject matter itself makes it appropriate only for mature readers anyway.  It's set mostly in France during the Nazi occupation, and through it we see what the people of France experienced both at the hands of the Nazis and what happened when they chose to resist.  It follows the lives of two sisters, separated from young ages by grief and tragedy, who are reunited and then separated again by the war.  They each respond to the war in different ways, but they both choose in their own ways to resist the evil that has invaded their homeland.  Although I wouldn't put The Nightingale in same literary class as All the Light We Cannot See, The Nightingale did make me cry twice in public.  That's something.  Highly Recommended if World War II is your thing, with the aforementioned warnings.
A Single Shard by Linda Sue Park was our co-op bookclub selection for the month of February, so I re-read this gem in order to facilitate the bookclub discussion.  I loved this book so much the first time I read it when it first came out, and my opinion now is no different.  Thematically this deals with a couple of my favorite issues:  coming-of-age and family.  Linda Sue Park's writing sings!  From the unfamiliar setting (Korea during the Middle Ages) to the historic details (celadon pottery-making) to the plot (coming-of-age meets quest!) to the wonderful characterization (who doesn't love Crane Man?), there is so much to love about this Newbery award winner.  Highly Recommended.
I'm still reading my Newbery Through the Decades title because this has been the Month of Sickness (not to mention other crazy disruptions) at the House of Hope.  I have done an ample amount of reading aloud, though.  Check out this month's Read Aloud Roundup post to find out what we've been enjoying as a family.