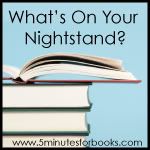 Last year I did my own thing with bi-monthly reading reports, but this year I'm back on the wagon with What's On Your Nightstand at 5 Minutes for Books.  January is almost always a good reading month for me, and this one has been just that.
One book that I started in 2016 but finished this month is Uninvited by Lysa TerKeurst.  I read this for my small group study at church.  This was the third of TerKeurst's books I've read, having read Unglued and The Best Yes in the past few years.  I thought this book was worth the time, especially if you're a Christian who struggles with feelings of rejection from others.  Some of what TerKeurst discusses I didn't identify with much, but some of it stepped all over my toes.  There is a page or two in this book that describes me to a T and served to draw me up short and take account of my life and especially my attitude.  I wouldn't consider this a theological book, but more of a slightly Christian-ized spin on some established therapeutic practices like cognitive behavioral therapy.  Also, if you don't like books that have lots of alliterative lists (to help us remember the points, no doubt) and the like (and might read more like a blog post than a book to study), you won't like this one.  However, if you want a light, encouraging "spiritual" read, this might be the book for you.  (Nelson 2016)
Living Well, Spending Less by Ruth Soukup is another one of my 2016 reads that I finished this month.  In December I read her book entitled Unstuffed and found it both enjoyable and beneficial, so when I realized that I also had Living Well, Spending Less on my Kindle (acquired, no doubt, when it was cheap or free), I plunged right into it.  While Unstuffed focuses on decluttering and minimalism, Living Well, Spending Less focuses on personal finances and how to live a "good life" while also maintaining financial solvency.  Both of these topics have been a theme I've explored over the past few months, and Soukup doesn't say anything new.   However, I do find people who have turned their lives around to be inspiring, and Soukup definitely has.  (You can read the first part of her story here.)  Either of her titles is worth your time if decluttering or making responsible financial decisions is your thing.  Of the two, Unstuffed was more beneficial for me personally, but I enjoyed them both.  (Zondervan, 2014)
Other books I read this month:
The Pearl by John Steinbeck–my thoughts are here.    That means I'm one down and five to go for the Back to the Classics Challenge.
The Cay by Theodore Taylor.  What a joy it was to revisit this favorite from my childhood!  I hope to share some thoughts about this story soon.
Booked by Kwame Alexander
Garvey's Choice by Nikki Grimes
To Stay Alive:  Mary Ann Graves and the Tragic Story of the Donner Party by Skila Brown
The Last Fifth Grade of Emerson Elementary by Laura Shovan
The last four books are novels-in-verse that I read because I am a second round judge in the poetry category for the 2016 Cybils. I've enjoyed this so very much, but mum's the word on which book I like best until after the awards are announced on February 14.
Last but certainly not least, I am pleased to announce that I have finally come to the Harry Potter party (just a couple of decades late).  This is actually not the first time I have attempted Harry Potter, nor is it the first time I've made it through one of the books (this one, to be exact).  However, this time it "stuck."  I listened to the audiobook of Harry Potter and the Sorcerer's Stone as I walked, drove, or puttered around the house.  (I actually started it in 2016 and re-started it–and finished it–this month.)  I'm definitely more of a visual than auditory learner, but Jim Dale's narration of this story is just so good that even I don't have a terrible time following it.  I've already started book two.  I'm in.

Of course, most of my reading time each month consists of reading aloud to my children.  This year I'm bringing back my read aloud reporting with the Read Aloud Roundup the last Thursday of each month.  Come back this coming Thursday to read more about what we enjoyed together as a family, or better yet, come back and share your own post!  
January isn't over yet, so I still have at least one more title I intend to finish before it's over.  Stay tuned!