We've read a lot of Thanksgiving books over the years.  On Monday I shared a quartet of longer Thanksgiving stories to read aloud.  Today I'm sharing what I consider the best picture books–our favorites.  Enjoy!
Books that tell the story of the first Thanksgiving:
Kate Waters' books about the Mayflower, the Wampanaog, the Pilgrims, and Thanksgiving are must-reads.   Giving Thanks: The 1621 Harvest Feast
 focuses on what we traditionally think of as the first Thanksgiving.  Of course, this whole story is one which for which it is somewhat difficult to separate the fact from the folklore, but I think Giving Thanks does a good job of illuminating what really might have happened (i.e. a series of meals together, in celebration of  harvest and friendship, etc.)  This story is told in alternating voices:  that of Dancing Moccasins, a 14-year-old Wampanoag boy, and Resolved White, a 6-year-old English boy.  It's interesting, if a bit cumbersome at times, to note the differences between their ways of life. Russ Kendall's photography of historical re-enactors at Plimoth Plantation absolutely brings both of these stories to life.   All of Waters' books provide a very realistic depiction of the Pilgrims and the Native Americans and how they lived, and we love them.
Other Kate Waters books we Highly Recommend:
On The Mayflower
Samuel Eaton's Day: A Day in the Life of a Pilgrim Boy

Sarah Morton's Day: A Day in the Life of a Pilgrim Girl (Scholastic Bookshelf)

Tapenum's Day: A Wampanoag Indian Boy In Pilgrim Times
These books are ideal for mid-elementary aged students and up.
When it comes to factual books that sum the expected Thanksgiving story up in a few pages, the two I recommend are Let's Celebrate Thanksgiving
 by Peter and Connie Roop and The Story of the Pilgrims  by Katherine Ross.  
Both picture books provide the facts in what seems to be a fair and balanced way.  Of the two, The Story of the Pilgrims has a slightly more storybookish feel.  The illustrations in both books are stylized, so pick the one you like the looks of best–you can't go wrong with either.
If you're looking for a Thanksgiving book that explains the first Thanksgiving for the preschool set, The Very First Thanksgiving Day
by Rhonda Gowler Greene is just the book!  Written in rhymes, three or four lines to a page, this book covers the well-known basics:  the food, the Indians, the Pilgrims, the Mayflower, the community, and the coming together.  The text is reminiscent of "The House That Jack Built"; full of repetition, it's sure to captivate even the youngest listener.
How Thanksgiving Became a Holiday

Thanksgiving in the White House
 by Gary Hines is simply the story of how the holiday that we celebrate here in the U.S. on the last Thursday of November each year came to be.  Really, though, it's as much about Tad Lincoln and his White House hi-jinks as anything.  It is also about the loving relationship he had with his esteemed father.
If you want to bring in the little woman who campaigned to make Thanksgiving a holiday, check out Thank You, Sarah: The Woman Who Saved Thanksgiving
 by Laurie Halse Anderson.  Anderson's research is impeccable and the story is wonderfully written.  Matt Faulkner's illustrations are quirky and fun.  For mid-elementary age and up, this one is indispensible if you want to know the historic origins about our national holiday.
Thanksgiving traditions
Melissa Sweet is one of my favorite author/illustrators, so I cannot leave out Balloons over Broadway: The True Story of the Puppeteer of Macy's Parade.  This well-researched and whimsically illustrated book is the story of Tony Sarg, the genius behind the huge floats we know and love from the Macy's Thanksgiving Day parade. As a child, Tony had quite the engineering mind and loved figuring out how to make things move.  As an adult he began making marionettes, and his lifelike puppets were soon performing on Broadway.  This led him to a job at Macy's, where he was asked to design a window display for the holidays–a "puppet parade."  This was a hit, so Macy's then commissioned Tony to do something even grander:  put together a parade for the immigrant employees who longed for the fanfare of the holidays they celebrated in their native lands.   After this, the parade just got bigger and bigger, with Tony's crowning achievement being figuring out how to engineer a marionette (of sorts) that would float instead of hang down–one that could be "articulated" (moved in precise ways) but still be seen high above the crowded New York City sidewalks.  If you haven't enjoyed anything by Melissa Sweet, or even if you have, be sure to read this perfect picture book this Thanksgiving!
Family togetherness
Traditionally, Thanksgiving means family fun.  Many books highlight this; here are a few great ones.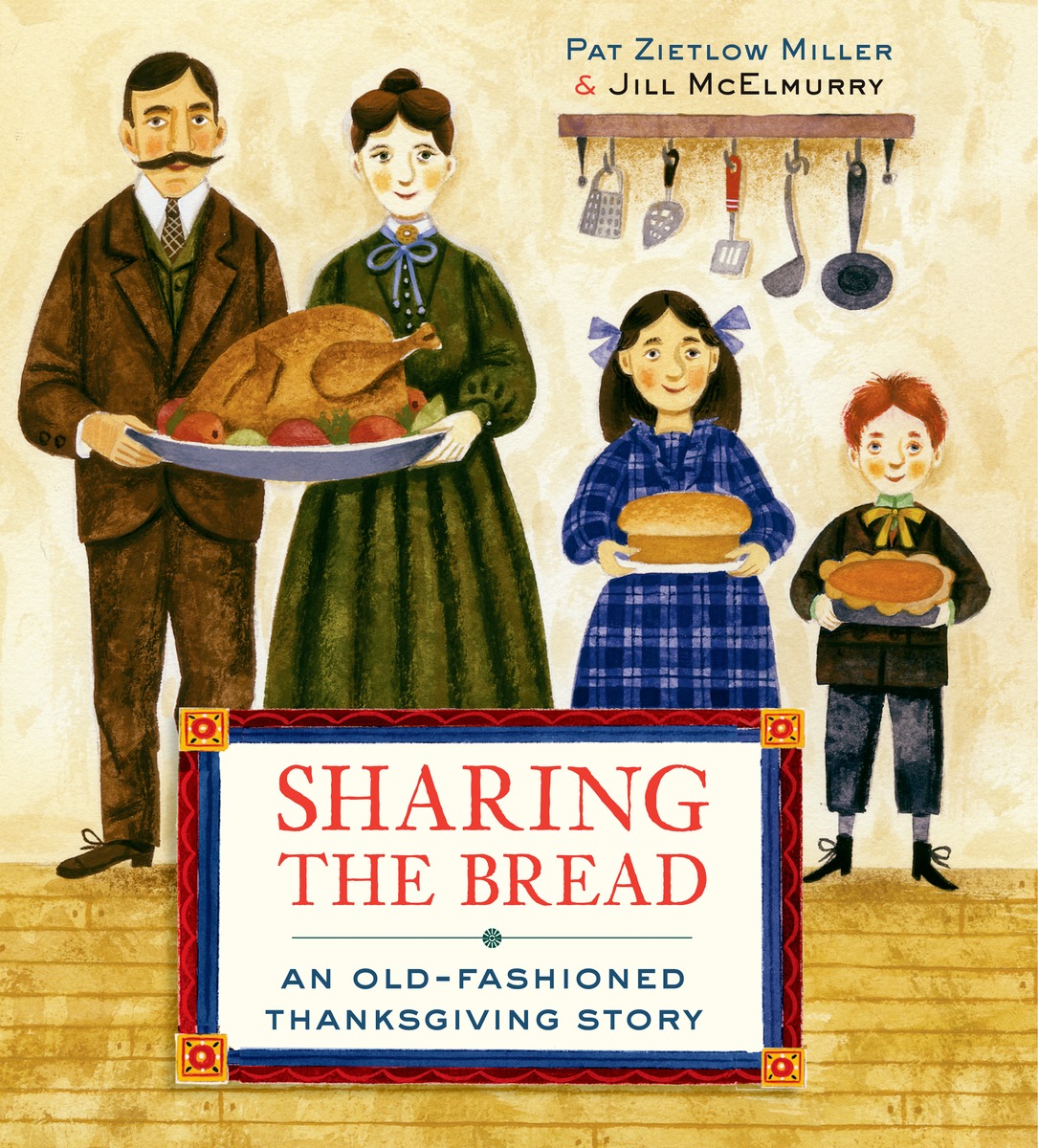 Sharing the Bread: An Old-Fashioned Thanksgiving Story
 by Pat Zietlow Miller is a fantastic rhyming story that focuses on family togetherness and teamwork. Everyone in the family–Mama, Daddy, Sister, Brother, Baby, Grandma, Grandpa, Auntie, and Uncle–has a job to do to prepare for Thanksgiving.  Rhyme and repetition make this book perfect for toddlers and preschoolers.  Jill McElmurry's old-fashioned illustrations set the perfect tone for this lovely family celebratory tale.  Fun and old-fashioned–so much to love about this one!
Thanksgiving Is Here!
 by Diane Goode focuses on the fun of family at Thanksgiving.  The text in the story literally floats across the pages; this gives the story a lilting feel, even though the story doesn't rhyme.  The first several pages end in a sentence that begins with "we":  "We all love to cook at Thanksgiving"; "We all have a place at the table"; etc.  This is a fun book to read, and the whimsical illustrations really add to the overall feeling of the story.  My favorite picture is the two-page spread of the whole family (well over twenty people) sitting down at the long table they have created by pushing smaller tables together.  This feel-good story that would appeal to just about any age, from preschool to adult.
Just for fun 

Cranberry Thanksgiving
 by Wende and Harry Devlin is the tale of Mr. Whiskers and his plot to get Grandmother's secret cranberry bread recipe.  I dare you to read this one and NOT make cranberry bread after you're through reading it!  A fun plot, silly and likable characters, and a recipe to boot–lots to love for old and young alike in this story.
The Peterkins' Thanksgiving
 by Elizabeth Spurr (who adapted the 1886 stories of Lucretia P. Hale for this picture book format) is a story of high hilarity.  The Peterkins are a family of eight, with members having a varying degree of dim-wittedness (the adults, mostly) or common sense (the children, mostly).  The format of this book is a letter, written to a "Lady from Philadelphia," about the Peterkin's Thanksgiving she missed after being called away home suddenly.  Of course, all kinds of chaos ensues:  their feast is stuck in the dumbwaiter, and the Peterkins go to all manner of difficulties to remedy the situation.  In the end, it takes the simple act (by a carpenter they've gone to great lengths to procure, no less) of readjusting the weights to get the dumbwaiter to work properly and deliver their meal.  It's a silly story about a silly family, and the silliness is a little bit sophisticated because of its unfamiliarity:  I had to explain to my girls about dumbwaiters, and it's set in a society familiar to us only in books.  This book (and the Christmas one) inspired me to read the original work to my girls .  The Peterkins are my favorite silly family, and what better time to enjoy some family silliness than at Thanksgiving?
So that's it–our favorite Thanksgiving picture books!  Do you have a favorite to add to my list?