Most of our Circle Time involves memory work, and this Christmas Circle Time is no different.  Here's the way it's going this month:
Open a Christmas book from our Christmas Book Basket and read it
Read Luke 2: 1-40–We have done this every year for the last year or two.  My thinking is that eventually the kids will all have it memorized just due to familiarity.  That's how it happened for me.  🙂
"Angels We Have Heard on High"
"Adeste Fidelis"–Practicing our Latin pronunciation.  😉
"Christmas Bells" by Henry Wadsworth Longfellow–appropriate because we're studying the Civil War in our history studies just now
I HEARD the bells on Christmas Day
Their old, familiar carols play,
And wild and sweet
The words repeat
Of peace on earth, good-will to men!

And thought how, as the day had come,
The belfries of all Christendom
Had rolled along
The unbroken song
Of peace on earth, good-will to men!

Till ringing, singing on its way,
The world revolved from night to day,
A voice, a chime,
A chant sublime
Of peace on earth, good-will to men!

Then from each black, accursed mouth
The cannon thundered in the South,
And with the sound
The carols drowned
Of peace on earth, good-will to men!

It was as if an earthquake rent
The hearth-stones of a continent,
And made forlorn
The households born
Of peace on earth, good-will to men!

And in despair I bowed my head;
"There is no peace on earth," I said;
"For hate is strong,
And mocks the song
Of peace on earth, good-will to men!"

Then pealed the bells more loud and deep:
"God is not dead, nor doth He sleep;
The Wrong shall fail,
The Right prevail,
With peace on earth, good-will to men."
Recite Gettysburg Address as far as we know it so as not to forget it
Recite Philippians 2:1-11 (which is as far as we know our memory passage for the year)
The DLM:  last stanza of "In the Bleak Midwinter" by Christina Rossetti
What can I give Him, poor as I am?

If I were a shepherd, I would bring a lamb;

If I were a Wise Man, I would do my part;

Yet what I can I give Him: give my heart.
The DLM:  100th Psalm–not particularly Christmas-y, but the girls have reminded me how much less has has memorized than they had at his age, and this seemed like a good place to start.
Once a week or so we will do a song from SQUILT Christmas Carols volume two.  We used volume one last year and really enjoyed it.
We're starting out with Maggie Rose, Her Birthday Christmas
by Ruth Sawyer as our Christmas chapter book.  It's fairly short, so I'm thinking that we'll finish up the season with something else.  Or perhaps we'll just spend more time with our Christmas picture books once this one's over.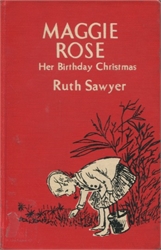 If you're looking for more inspiration, check out these posts: