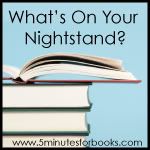 Since last month's Nightstand, I've mostly done this:
(Yes, most of those boxes contain books.)
Well, that's not entirely true–I've done plenty of other things.  However, moving has taken up quite a lot of my mental and emotional space, which unfortunately doesn't leave a lot of time or energy for reading.
Since last month's Nightstand, this is what I've finished and reviewed:
The Nesting Place by Myquillyn Smith, most of which I read while relaxing on Sunday during Benny's long nap.  I had had it on my Kindle for a long time, and for some reason it came to me that now would be a good time to read it as I contemplate things like paint colors and furniture placement in our new home.  I used to be an infrequent reading of the Nesting Place blog , so I was already familiar with Smith's philosophy, which is one I really appreciate.  (Her catch phrase is "It doesn't have to be perfect to be beautiful," and that's also the subtitle of the book.)  I enjoyed reading this book a lot.  While I can't really say I learned anything, it did energize me for the task ahead.  (This is a mixed blessing, since we don't close on our home until mid-June, so there's not a whole lot I can actually do right now.)  I was surprised by the end of the book.  It made me cry.  Also, I'm really glad I read this one on my phone (yes, I did) and iPad instead of my old-timey Kindle because it wouldn't have been nearly as enjoyable without the color pictures.  Highly Recommended.
Right now I'm about a third of the way into Christy by Catherine Marshall, which is a re-read for me for the RTK Bookclub.  I hope to finish it up sooner rather than later.  I'm enjoying it, but I'm just not getting a lot of traction on it because of everything else that's going on.
What's up next?  Well, this is what I've saved out of all those boxes up there:
That's just a random assortment of things, most of which are for either my Newbery Through the Decades Challenge or my Birthday Project.  I've also lost traction on my TBR Pile Challenge, so maybe I'll get back to that, too.
 I am excited to be hosting Carrie's Reading to Know Bookclub for the month of June!  In fact, I've just ordered the 70th anniversary edition of the book pick, which is The Little Prince by Antoine De Saint-Exupery.  I'll probably read this one aloud, or at least listen to the audiobook, which is included in this gift set.  Won't you consider joining us for this read?

While I haven't read much for my own personal enjoyment this month, I have been reading aloud a lot.  Come back on Thursday to read all about it!
One thing about it, this next month won't be boring.  🙂
What's on Your Nighstand?