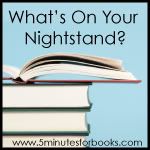 Since last month's Nighstand, I've read and/or reviewed:
Yes, really.  To say that I hit a reading slump this month is an understatement.  It was a very busy month with the ending of our co-op and CBS, and sometimes just parenting in general takes so much of my emotional energy that I have very little left for fictional worlds at the end of the day.  I also spent an inordinate amount of time trying to engage with Elizbeth Wein's new book, Black Dove, White Raven, and I finally gave up.  I think it was probably more an issue with the reader than the book, but that's the way it was.  Now I'm ending the month with a case of walking pneumonia, so yeah–it has been a long and taxing month.  It was a Birthday Project book–The Prince of Frogtown–-that got me out of my slump.  I devoured it.
Onward and upward!  Right now I've got several good things going:
To possibly pass on to the girls, or at least to Lulu:
To jump start some summer Bible study, and because everyone loves it:
and to help me reignite the passion and because I have been inspired by Dawn's bookclub:
I've also let my TBR Pile Challenge list fall by the wayside, I so plan to try to pick up a couple of these next month.  🙂
What else?
One thing I'm super-duper excited about it reading Christy by Catherine Marshall, Stephanie's pick for the Reading to Know Bookclub, in April.  Christy is one of my favorite books of all time, and I haven't read it in years.  If you've never read it, do consider joining!
Oh, I do love making booklists!  🙂
Please be sure to come back on Thursday to find out what I've been reading aloud!
What's on Your Nighstand?