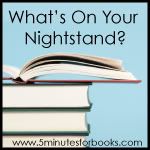 Yes, we still have a full week left in March, but today is What's on Your Nightstand Tuesday at 5 Minutes for Books. (Am I the only one who would find it both more enjoyable and easier to remember if this happened on the last Tuesday of each month instead of the fourth?!?  Hint, hint. 🙂 )
Here's what I've read and reviewed since last month's Nightstand:
March's headlines at the House of Hope have been these:  "Mama Has Been Very, Very Sick," followed by "Recuperation Has Taken Longer Than Expected."  I think I'll always associate certain books with the Evil Twin Sister of the Flu that struck me down mid-March.  I am thankful for one thing among a few regarding The Sickness, though:  it gave me much-needed downtime, which in turn gave me a chance to get through a long book much more quickly than I ever would've been able on our normal schedule.  That book is All the Light We Cannot See, and I loved it.  Really, though, I haven't read a book I didn't enjoy this month.  Seeing as we still have a week left in the month (ahem), I'm calling it a great reading month, with The Pursuit of God by A.W. Tozer and Rufus M. by Eleanor Estes, as well as a few nonfiction titles I'm dabbling in, all still in the works.
Next month will be busy, with all of our weekly activities ending the third week of the month or so.  We'll see how things go on the reading front.  I certainly don't wish to be sick again, just to afford me more reading time–let me make that abundantly clear!  🙂 Here are a few things I hope to get to:
A Severe Mercy by Sheldon Vanauken for my Birthday Project .
Pick back up with The Prince and the Pauper via audiobook and FINISH IT–Bad weather and sickness have totally derailed my walking out-of-doors (and, truth be told, my cooking indoors, which are the two times I listen to audiobooks).  However, I have a new lease on life this week because it is SPRING BREAK (!!!) and Steady Eddie is off work.  I have set a goal for myself to walk five miles this week, and I plan to spend those miles listening to this book.  🙂
Finish Quiet by Susan Cain for the TBR Pile Challenge.
Something (or things) for my own Newbery Through the Decades Challenge.  Come back next Wednesday, April 1, to find out what!
Beyond this, I can't say.  I still like to leave a little wiggle room for whim reading.
As always, come back on Thursday to find out what I've been reading aloud!
What's on Your Nightstand?