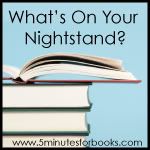 As always, my reading goals for January were lofty.  January 2015 hasn't been as reading-friendly as past Januarys have been, but that's okay.  I am pleased to report that this month I have achieved a couple of my reading goals, with a wildcard thrown in for good measure.  🙂
That's all I've finished.  Well, that's not completely true:  I have some read-alouds to share, but Read Aloud Thursday comes around this Thursday, so co
me back then to find out how I've spent most of my reading time this month!
And now for what's coming up.  I have a couple of things in progress right now:
As for what I hope to read, well, we'll see.  🙂  What's noticably absent from this post are a L.M. Montgomery Reading Challenge book and Cybils finalists.  I planned to read Emily's Quest for the LMM Challenge but finally figured this wasn't the year for it.  (Don't worry–a LMM book will make an appearance for this month's RAT!)  I still have hope for some Cybils middle grade fiction finalists, or at least one.  🙂  
One book I do intend to read is Chasing China:  A Daughter's Quest for Truth by Kay Bratt for the TBR Pile Challenge.

I also plan to keep up with my Newbery Through the Decades Challenge each month.  I will post what I plan to read for it on February 1.  🙂
I try not to box myself in too much.  
I find that when life gets hectic (as it so often is!), I enjoy a little bit of wiggle room in my reading plans.
What's on Your Nightstand?