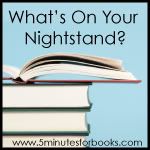 Since last month's Nightstand, I have read and reviewed the following books, all of which are middle grade novels:
I also spent a good deal of time re-reading Jane Eyre, as well as listening to it via audiobook, for my bookclub, but I ultimately didn't finish it.  I had already read it at least twice, so I felt okay about it, though I felt like something of a failure since I'm the one who started the bookclub.  Since we've started this super busy school year, I haven't had a whole lot of extended quiet time that a book like that requires.
Of course, I also spend a lot of my time reading to my children.  I'll share what we've been reading together later this week for Read Aloud Thursday.  🙂  Come back and share your own read aloud posts!
As for next month, I fully expect to spend most of my month reading lots of kids' books for the Armchair Cybils challenge.  I have four or five middle grade novels waiting for me now.  By the way, it's not too late to join in the Armchair Cybils challenge!  You can read more about it here.

What's on Your Nightstand?