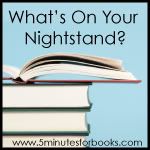 Since last month's Nightstand, I've read and reviewed the following:
I read and was puzzled by the 2014 Newbery Medal winner, Flora and Ulysses.  
I clicked through and bought Seeking Allah, Finding Jesus by Nabeel Qureshi 
when it was cheap for the Kindle after reading Barbara's and Sherry's reviews.  I devoured it.  It is mostly a very readable book of apologetics told through the eyes of a young, devoted Muslim, but the last portion of it, when Nabeel finally does believe on Jesus, really got me.  Sometimes I, in my Bible Belt existence, forget that people really do forsake all to follow Jesus.  This book has ultimately sent me on yet another quest of self-examination, this time with a goal in mind:  do I love Jesus?  How do I know?  What does that look like in my life? Highly Recommended.


I finally finished Deconstructing Penguins and shared a few of my rambling thoughts here.
My reading time is not as plentiful as it used to be.  I read in very short segments of time; sometimes my only real reading time all day long is fifteen or twenty minutes before I finally go too sleep way too late each night.
What's up for the month of October?
Well, there's the matter of my IRL bookclub, which meets way too soon for me to even look squarely in the eye right now, considering the fact that I haven't even started my re-read of Jane Eyre. . .
. . . sooooooo currently I'm reading and LOVING The Wednesday Wars by Gary D. Schmidt.

After Jane Eyre, I intend to start reading for this year's Armchair Cybils challenge, which will officially begin on October 15.  I've ordered some titles I've seen bandied about on the Heavy Medal blog in preparation since actual Cybils nominations have not yet begun.
Of course, most of my reading comes in the form of reading aloud to my children. Come back on Thursday for this month's Read Aloud Thursday to find out what we've been enjoying together!

What's on Your Nightstand?