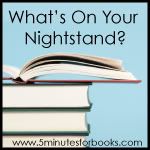 Since last month's Nightstand:
I'm currently reading:
The first two, Seeing the Unseen by Randy Alcorn and Running Scared by Edward T. Welch (quote here), are Kindle reads that 
I snagged when they were cheap or free.  (The links above are to the paper versions of the books.)  Both are good, solid, helpful reads.  Deconstructing Penguins is a nonfiction book I've had around for way too long.  I hope to share my thoughts on it in the next week or two (after I finish reading it!)
Both of these are bookclub picks. If I read anything else, it will be gravy in this busy life o' mine. 🙂
Be sure to come back on this coming Read Aloud Thursday to check in with your read-alouds for the month of August or what you're hoping to read aloud in September!  I'll be sharing what we've been reading together then.