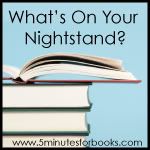 This might just be my shortest Nightstand post to date.  My entire month has been consumed with reading Great Expectations (when I haven't been reading here and there on the internet).   And guess what?  I'm still not through.  I'm within one hundred pages of the end, though, so there's hope.  🙂
(I've shared quotes here, here, and here.)
Next up after Great Expectations are the following:
The first two, I Capture the Castle and Deconstructing Penguins, I'm reading for Annette's Summer Reading Challenge.   I'm reading Teaching from Rest in preparation for our upcoming sixth (!!!) year of homeschooling.  The Fourteenth Goldfish by Jennifer L. Holm is a pre-pub ebook I've gotten through NetGalley to read in anticipation of its August publication date.   That's a lot–possibly more than I can read in a very busy month.
Of course, I've been reading aloud, too.  Come back next Thursday, July 31, for this month's Read Aloud Thursday.