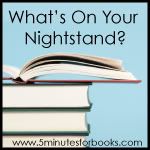 To be completely honest, not much has been on my nightstand since Benny was born (three weeks ago today! Unbelievable!).  I'm having a hard time focusing on anything right now, mostly because I'm terribly distracted by my iPad and Pinterest.  I could feel really guilty about that, but I'm choosing not to.  Seasons, right?  Instead, I'll just list what I've read since last month's Nightstand post and link to the reviews I've written:
All three books from the Incorrigible Children of Ashton Place series by Maryrose Wood:  The Mysterious Howling, The Hidden Gallery, and The Unseen Guest
The Mysterious Benedict Society by Trenton Lee Stewart (re-read)
The Mysterious Benedict Society and the Perilous Journey by Trenton Lee Stewart–I didn't review this one because while I really enjoyed it, I didn't think I had anything else to say about MBS that I hadn't already said in my original review.  Plus, I quit reading after this book.  I 

tried

to read the next one, but I just couldn't.  I felt like I had already been through so much with Reynie, Sticky, Kate, and Constance, what more could possibly happen?  Oh, I do love the stories, but I'm just not much on finishing series.  (Except maybe The Incorrigible Children of Ashton Place–I really do want to find out what happens to them!)  I don't consider this MBS situation a failure, though, because I have since hooked–completely, irrevocably hooked–my girls on them.  It started with Louise, who's not adverse to reading recommended-by-mom titles (yet!).  She started reading the first story a few weeks ago, and for a seven year old she made really steady progress, finishing it within a week.  She has since gone on to read the subsequent two titles and is currently working through The Extraordinary Education of Nicholas Benedict.  Score!  Lulu finally picked up the series after watching Louise read them for a couple of weeks, and she's hooked now, too.
Maybe the fact that she's had her nose stuck in these books the whole time we've been on this baby break from school counts for something in the first grade.  😉
Right now I have a couple of nonfiction titles in the works:  Unglued by Lisa TerKeurst and The Hidden Art of Homemaking by Edith Schaeffer.  I'm reading the first for my own edification; the second I'm reading along with Cindy at Ordo Amoris for a bookclub.  (Well, I've always wanted to read it, so Cindy has provided the impetus.)

This next month I plan to read Island of the Blue Dolphins by Scott O'Dell for the Reading to Know Bookclub because I'm the hostess!  🙂  We'd love to have you join in and read this Newbery winning title.

Since last month's Nightstand, I've shared my thoughts on a couple of read-alouds I've read to my children:  The Brave Little Toaster by Thomas M. Disch and The Princess and the Goblin by George MacDonald.  I'm currently reading aloud The Story of the Treasure Seekers by E. Nesbit, and I hope to have it finished in time to share my thoughts about it this Read Aloud Thursday.

Beyond this, I won't even venture a guess.  Either I'll while away all my extra time (of which there is plenty since I'm nursing Benny every 2-3 hours) pinning all sorts of neat home projects I'd like to tackle, or I'll rediscover my self-discipline and do some actual reading.  We shall see.  🙂
What's on Your Nightstand?