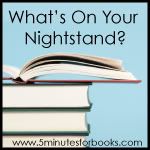 I haven't been blogging much during these last few weeks (days!) of pregnancy, but I have been reading.  Here's what I've reviewed since last month's Nightstand post:
I've also been reading aloud to my children in hopes of finishing up some things before baby brother makes his appearance.  These are the chapter books I've shared during Read Aloud Thursdays over the past month:
We currently don't have a chapter book read-aloud going right now, although I am still working through The Blue Fairy Book with Louise.  I feel like I'm in total limbo right now, waiting for the baby, so we're trying to wrap up as many things as we can.  Whether or not I can stand to not have a read-aloud going depends entirely on how things go the first few days of this week and whether or not it looks like baby brother is coming sooner rather than later.
I've got a couple of books in the works right now.  I picked up Lit! by Tony Reinke (which has been on my TBR list forever!) at the end of last week and am about half way through it now.  I even got a tiny head start on April's Reading to Know Bookclub selection, No Name by Wilkie Collins.  However, I got sidetracked from both of those titles when Steady Eddie and I made an early morning trip to the hospital Friday morning thanks to a false labor alarm and I took along my Kindle which is jam-packed with unread titles.  I thought I'd need something fun, light, and mindless to read, so I started on The Incorrigible Children of Ashton Place Book One:  The Mysterious Howling by Maryrose Wood and was completely sucked in.  I'm over half-way finished with it, so look for a review soon.
As for April, who knows?  So much depends on . . . a certain little baby who should be entering our family very, very soon.  (Please, Lord, let it be very, very soon!)  I might finish up the Ashton Place series.  Janet's reviews of the Chronicles of Prydain by Lloyd Alexander have really piqued my curiosity, too.  I hope I can manage to maintain my momentum with Wilkie Collins.  I read a lot right after the DLM was born, and I hope I can read a lot after DLM #2 arrives, but that will likely depend on the aforementioned 2 3/4 year old little boy and how he responds to being a new big brother.  😉