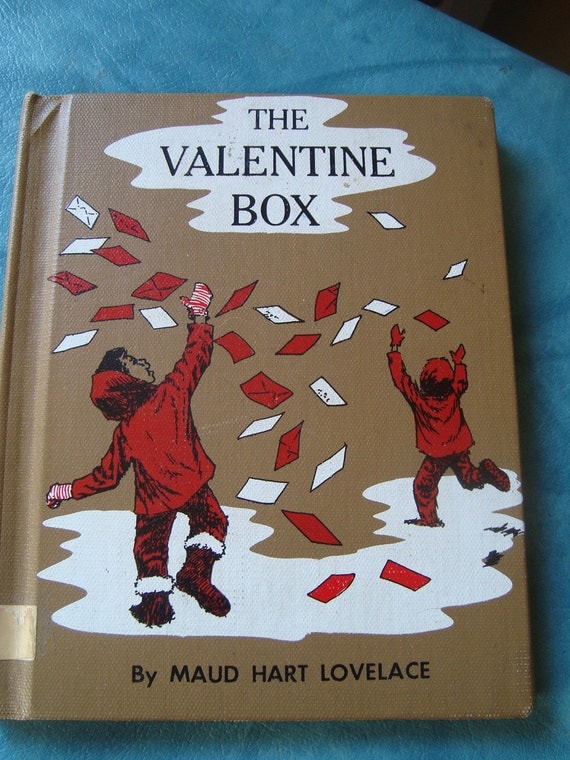 Kirsten reminded me in my Valentine's Day round-up post of the existence of Maud Hart Lovelace's The Valentine Box, and since we're fans of Maud Hart Lovelace, I thought it would make a nice read-aloud during a very hectic week.  I asked Steady Eddie to run by the university library where I used to work and check it out since I knew they had a copy there, and after a bit of hunting, he found it.  It turns out that I had already read it to the girls but had not blogged about it (I knew there was a real, practical reason for me to keep this blog!  😉 ).  Still, it is a fun little story of friendship, so we weren't disappointed.
The Valentine Box is the story of a girl named Janice who has just moved to a new neighborhood and a new school.  The story takes place on Valentine's Day and the day of her class Valentine's party at school.  She goes home for lunch and really isn't looking forward to going back to school for the afternoon. She spends a lot of time thinking about her best friend back in the city and how she hasn't found many friends in her new home.  However, the snowy weather and a rather serendipitous turn of events involving a gust of wind and some sodden Valentines help her to make not one but two new friends, and all is well in the end.
The most notable thing about this story is the fact that Janice is drawn as an African American child and all the other children are white.  This is not mentioned in the text of the story at all; rather, it is communicated through the illustrations.  If one were to read the story without seeing the pictures, it would seem like this is just a new-girl-wanting-to-fit-in sort of story.  Obviously, though, someone had other things in mind.  I actually didn't bring this up to my children at all; I just read the story through without any commentary.  According to the bibliography at Wikipedia, The Valentine Box was Maud Hart Lovelace's last story, published in 1966.  Of course, the time was right for such an interpretation, but I always wonder–was this the author's real intent, or was it something the editor/publisher decided?  I'm interested in things like that.  Still, though, it's a nice little school story, and since my girls are homeschooled, it's no more foreign to them really that the children in this vintage story actually walk home for lunch than it is that each child in the class isn't required to bring a Valentine for everyone.  As Maud Hart Lovelace stories go, I wouldn't call this one a standout, but it is quaint and sweet and has a happy ending.  Thanks, Kirsten, for the reminder about this vintage find!
Other Maud Hart Lovelace books I've reviewed:
What are you reading together this week?  Any Valentine's Day books in your stacks?
Happy Valentine's Day!