In lieu of my normal weekly wrap-up this week, I'm sharing a snapshot of our life here at the House of Hope.  When I was planning my blogging at the beginning of the week, I thought a Thursday would be a good day to share because it's the one day we don't have to get up in the morning planning to be somewhere in the afternoon or evening. (Am the only one that feels so rushed, even in the morning, when there's an afternoon appointment?)  Then we had an unusual week, with Lulu being sickly on Monday when I had planned a nature study outing.  I still wanted to do the nature study and take advantage of the unseasonably warm weather, so I changed my nature study plan to Thursday instead.  (Rain was forecasted for the intervening days.)  Yesterday was atypical for another reason:  we had to be at church in the late afternoon to have our family picture taken for a pictorial directory.  I said all that to say that we actually stay home most mornings, but I'm trying to embrace the flexibility that homeschooling small children allows (all the while not losing my cool too much because getting out of the house in a timely way with little kids is very stressful).  I suppose this day is as typical as any.  🙂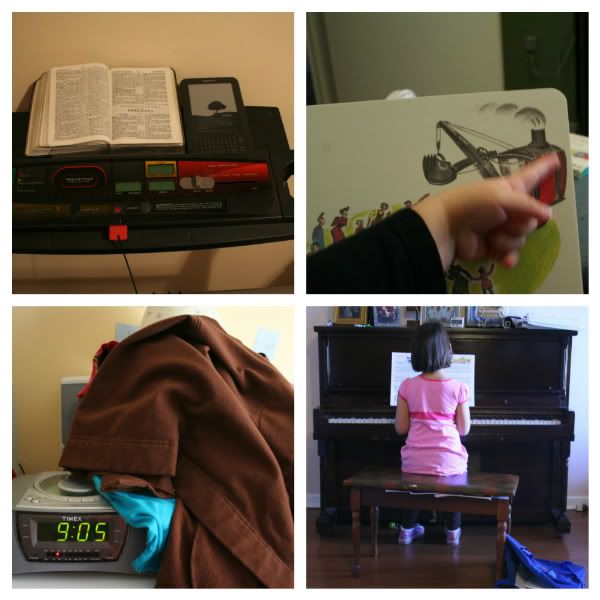 5:50 a.m.–My alarm clock rang. I snoozed and finally shut it off.
6:30 a.m.–I get up and make my necessary preparations to hit the treadmill.  (Don't let this impress you too much–this was the only time so far this week, I think.)
6:40-6:55 a.m.–Treadmill, Bible, prayer, and reading Organized Simplicity on my Kindle.
6:55-7:15  a.m.–Eat breakfast (oatmeal with almond butter, raisins, and honey, with orange juice to drink) and chat with Steady Eddie a bit.
7:15-8:05 a.m.–I showered, stripped the sheets off our bed, and unloaded the dishwasher.  Lulu, our early riser, was up before I showered, so she read while I performed my morning ablutions.  She also helped with the dishes. (This is usually a chore the girls help with, but this morning I decided to head it up since we had a lot to do.)  The DLM started making noise in his room at about 7:50, and I went in and awakened Louise at about 8:00 to ask her what she wanted for breakfast.  She wanted a bagel with peanut butter and honey, while Lulu requested her usual dry Cheerios (or the Aldi equivalent).
8:05-9:20 a.m.–I dried my hair and then nursed the DLM and read him two books (yesterday's choices:  Mike Mulligan and the Steam Shovel and Oh My Oh My Oh Dinosaurs).  The girls finished eating (with a time limit, otherwise they'd sit and read/look at books all morning while "eating"), did their kitchen chores (wipe off table/chairs/sweep), and brushed their teeth.  I instructed them to get dressed in presentable play clothes since we'd be going out later, and this resulted in a fashion show and multiple changes of clothing.  (See that pile of clothes up there?  They can't hang their clothes back up yet, so I had to pile them up to be put away later.  This drives me crazy!)  While I stripped the sheets off their bunk beds, Lulu began practicing the piano.  This resulted in a mini-meltdown for both of us (which was not a proud mommy moment for me, for sure), and after some prayer and hugs and talking, things got off to a little better start.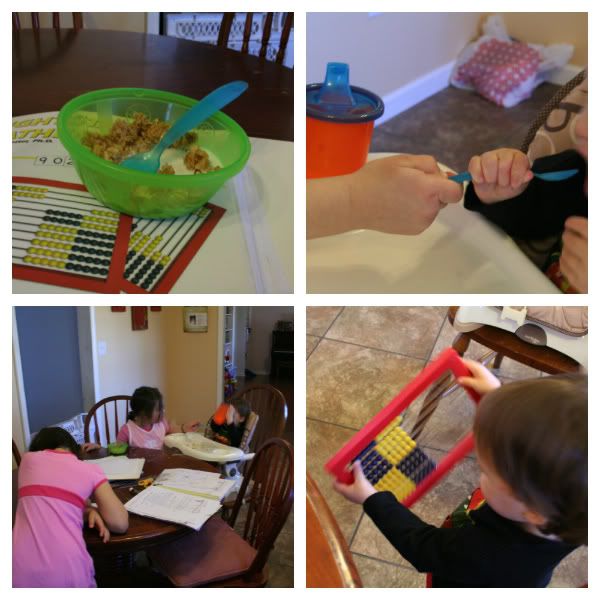 9:30-10:05 a.m.–Lulu and I work on her math lesson (RS C lesson 79) together.  Louise helped me by feeding the DLM his granola.  When the DLM tired of eating, he and Louise played together for a bit.  Lulu did great with her math yesterday, even volunteering to do a timed multiplication sheet.  She wrote her twos facts (maybe 20-25 problems?) in just over a minute!  While she worked on what she could independently, I worked on getting our lunch together for our picnic.  (Bless him, Steady Eddie made our PB&Js when he made his!)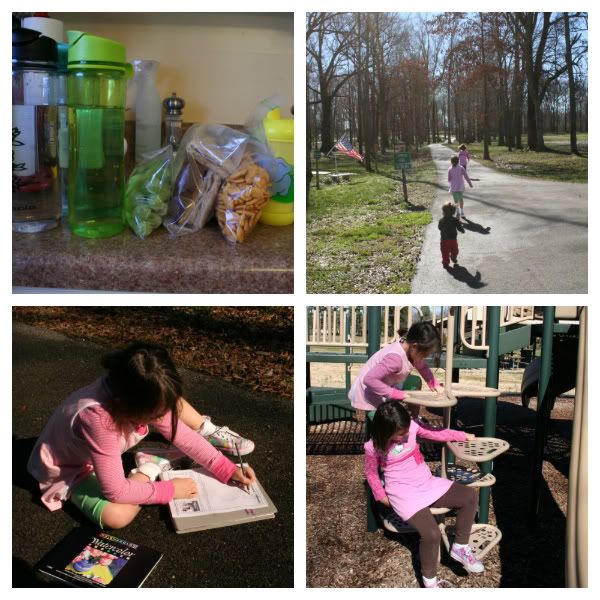 11:00 a.m. -12:45 p.m.–We visited a park in a neighboring county because it has a great walking trail that affords some up-close-and-personal with nature opportunities.  It was very, very wet and muddy, but everyone enjoyed the fresh air and sunshine, even if it was cooler and windier than I expected it to be.  Steady Eddie even met us there for a picnic lunch!  After I finished eating I read about half a chapter from our current chapter book, Adam of the Road.


12:45-1:45 p.m.–We picked back up with our lessons back at home. Here's how it went:
12:45–Louise and I did her reading lesson (OPGTTR lesson 122) while Lulu caught up on her booklist and read Winnie-the-Pooh (her assigned reading for the week).
1:00–Lulu and I did FLL 58 during which she was introduced to prepositions for the first time.  Louise worked on adding her latest book to her booklist.
1:17–Lulu did her WWE lesson; today's was a dictation from Five Children and It.  She had to write a direct quotation and punctuate it correctly.
1:26–Lulu's spelling lesson–AAS level 1 lesson 21.  We're still catching up in spelling!
1:38–Louise and I read a chapter together from Aunt Eater Loves a Mystery.
1:45–rest time!
1:45-2:10 p.m.–I rocked/nursed the DLM and caught up on Read Aloud Thursday posts on the iPad!
2:10-3:00 p.m.–I ate a snack (a dark chocolate/coconut muffin and some water) and worked on this post.  The girls listened to audiobooks and played/made messes in the bedrooms.
3:10-3:40 a.m.–Teatime!  We went over our memory work:  our hymn, "Rejoice, Ye Pure in Heart"; Psalm 24; and "Stopping by Woods on a Snowy Evening." I finished reading the book Castle by David Macauley to the girls, and I had them do an oral narration and called that good for history.  Oh, and I also read a surprisingly good picture book, Ready to Dream by Donna Jo Napoli.
3:40-4:35 a.m.–Lots of busy-ness–awaken and bathe the DLM; iron clothes; get everyone ready for our picture.  Whew!
4:35-6:30 a.m.–Church and Aldi.
6:30-8:00 a.m.–Supper prep and clean up; piano practice (Lulu practiced about fifteen more minutes; Louise still has to have supervision for her practice); girls' baths; laundry; room tidying.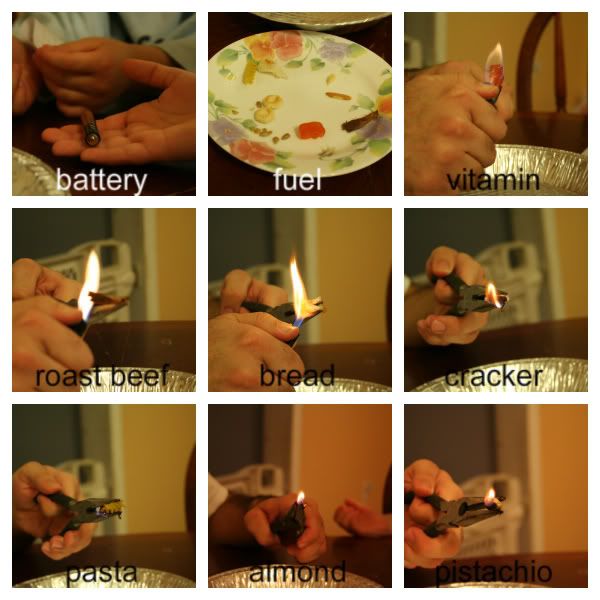 8:00-8:30ish–Science lesson led by Steady Eddie! Food as fuel/energy. Fire=fun! 🙂  (I LOVE science, but I have to admit that it is great to have someone else step in and take responsibility for a great science lesson each week!)  The DLM tried really, really hard to blow out the flame from across the table each time Steady Eddie would light the piece of food, which was so cute and funny.  After Steady Eddie's fabulous demonstration and discussion, I read a Let's Read and Find Out Science Book aloud, Energy Makes Things Happen.  By then, the DLM was D.O.N.E., so we headed off to "night night" land.
That's a long school day, huh?  We're really working the learning lifestyle thing right now, but it's as it must be with a toddler in tow.  I'm mostly okay with that; it's great to have Steady Eddie be involved with the learning, and I really appreciate his science expertise.  Plus, our lessons are mostly short, so while it's a long day, it's not too strenuous at any time.   While there are many, many things about our days I'd change (if I could only manage my time better!), I mostly feel good about what we're doing.  What's not seen here is just how much reading/ picture studying the girls do individually:  their noses are stuck in books at every opportunity.  (Check out This Week in Books for a picture of what we read each week.)  Although each day is different, most days are overall fairly similar in how much we accomplish.  I feel blessed to have this life with my family.
Previous day-in-the-life posts at Hope Is the Word:
I'm linking up with Simple Homeschool, Collage Friday, and Weekly Wrap-Up.