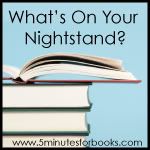 I've turned over a new leaf yet again and am determined to remember to participate in What's on Your Nighstand? every fourth Tuesday of the month.  My last Nightstand post was way back in October, but rather than rehash everything I've read since then, I'm going to start fresh with what I've read since we hung the new calendars.  Ready?
Books read in January 2012 (linked to my reviews):
A Tangled Web by L.M. Montgomery (review coming soon)
Beyond Opinion:  Living the Faith We Defend by Ravi Zacharias (in-progress, but I hope to finish and review it by Friday!)
I feel like I've read a lot more than that. Of course, I read a lot to my children, so there is that.  Plus, that last book up there is not a light read.  I started it around Christmas and I've more-or-less made steady progress in it each week, but it requires a lot of attention and thought.
I think the nonfiction titles win out this month; both Choosing Gratitude and Beyond Opinion have provided just the background I needed to start the new year.  I ended 2011 feeling pretty ragged and worn out, and just reading about thankfulness and its importance to the Christian and a huge book chock-full of compelling evidences for Christianity (and why it matters and what to do about it) have given me a spiritual boost.  I'm thankful for both of these books and God's timing in bringing them into my life, and I give them both a Highly Recommended.
 I've been reading lots and lots of picture books to my girls and the DLM (which gives me great joy even to note!), and our current chapter book read-aloud is the Newbery Medal-winning classic, Adam of the Road.  I hope to post a review for Read Aloud Thursday in the next few weeks.  If you're interested in a peek into some of the things we've enjoyed lately, check out my This Week in Books posts, as well as Nonfiction Monday, Read Aloud Thursday, and Poetry Friday.
Of course, uppermost in my mind have been the Armchair Cybils, and I hope to get to at least two more novels from the shortlists before the winners are announced on Valentine's Day.  I have these two books waiting in the wings:

The other things on my plate for February are a challenge and a book club. 
First, there's Barbara's Laura Ingalls
Wilder Reading Challenge at Stray Thoughts, for which I hope to read The Wilder Life by Wendy McClure and Let the Hurricane Roar by Rose Wilder Lane.  Both of these are only tangentially related to LIW, so I guess I'm approaching the challenge from more of an "inspired by" perspective.  I'd also like to read Becoming Laura Ingalls Wilder:  The Woman Behind the Legend which Janet reviewed here, but I'm not sure I'll have enough time for all three.  The Little House on the Prairie books have provided much of the background for my girls' early years (as they did mine), so this is a author and topic that really interest me. 
Second, I would like to read February's book for the Reading to Know Book Club,
Running Away to Home by Jennifer Wilson.  This book was selected by Carrie at with all that I've been given, and it sounds like a good one.
Of course, I still have Lit! on my TBR stack, and after Carrie's exuberance about it ;-), I really, really want to read it, too. 
And, in case all of that isn't enough, the ALA Youth Media Awards were announced yesterday.  I can't wait to get my hands on some of them!
So many books, so little time:  a theme song of my life.  What a great "problem" to have!
For more Nighstand posts, check out 5 Minutes for Books.