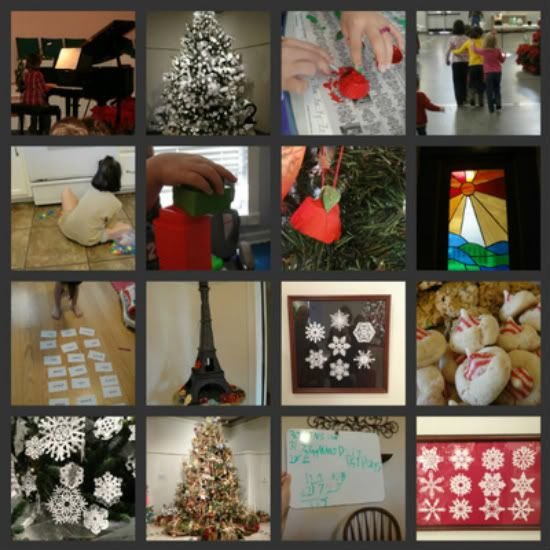 Instead of doing my usual, wordy Weekly Wrap-Up, I'm trying something different this week:  a visual representation of the week.  Although I really enjoy participating in the week-in-review memes, one write-up takes me an inordinate amount of time to do.  And I keep a lesson plan book!  So this is what I'm going to try out for a while–a quick collage, a note or two about anything particularly interesting about our week, and a record of the books the girls read.  That's it.  🙂
We have attended a lot of Christmas parties in the past two weeks, with at least one more ahead before the family festivities begin.  I'm tired.
We got out on Monday and stopped by an art center on the way to one of the parties.  Each year they host a local quilt club's themed competition, and I LOVE seeing the quilts.  That Eiffel Tower up there?  It's a quilt!
Lulu did a lot of subtraction this week, and she began reviewing perimeter.  This girl is champing at the bit to multiply, so I let her! 
Louise was inspired by Lulu's perimeter lesson to measure the width of our stove. 
See that white Christmas tree up there?  It is decorated with 800 hand-cut snowflakes.  Beautiful!  Each snowflake has something distinctive about it (of course!)–some have animals cut into them, some have numbers, some letters, etc.  The twelve framed snowflakes are the twelve days of Christmas; the seven frames snowflakes are the seven days of creation.  All this (plus about eight more trees, including the nature-inspired one above) are at a different local art center, and all of them are created by local organizations and artists.  I am always so inspired by this exhibit.
This week Lulu read, among many other things, A Cricket in Times Square, Hank the Cowdog:  The Killer Stud Horse, and some of the girl My America books (again!).
Louise read No Fighting, No Biting!
For the next two weeks, we are on Christmas break from any official schooling, and I am SO GLAD.
Whew!
I am linking up today to my friend Mary's new meme, Collage Friday, at Homegrown Learners.