I picked up A Jane Austen Education: How Six Novels Taught Me About Love, Friendship, and the Things That Really Matter
 by William Deresiewicz off the new books shelf at the library on a whim.  I had just finished Alice Ozma's The Reading Promise, and I suppose I was still floating on something of a reading high after reading such a pleasant and encouraging little memoir, so I thought, Hmm–why not?  Another book about reading sounds like fun!  Well, I finally finished A Jane Austen Education over the weekend, and while I would in no way compare it to the confection that is Alice Ozma's project memoir, I think for the right audience, A Jane Austen Education would be just as palatable. 
A Jane Austen Education is organized into seven chapters, the first six of which are given individually to one of Austen's works.  The chapter titles give a sense of the theme of each chapter/essay:
Emma:  Everyday Matters
Pride and Prejudice:  Growing Up
Northanger Abbey:  Learning to Learn
Mansfield Park:  Being Good
Persuasion:  True Friends
Sense and Sensibility:  Falling in Love
Deresiewicz then relates in detail how the characters in each of Austen's novels do the very thing the chapter titles indicate–cope with everyday matters; grow up; learn; etc.  However, and this is the part that really appeals to the booklover in me, he also shares in a very intimate way how he applied the lessons in his own life.  Reading these essays in which he picks apart certain aspects of each novel and relates it to his own experience reminds me so much of graduate English classes I have taken.  It turns out that Deresiewicz was an associate English professor at Yale until 2008, so there's a reason why his book reads that way.  Reading this book made me hungry to delve back into Austen, something I haven't done in several years. 
This, of course, brings me to a couple of problems inherent in this volume.  The first one is this:  I had a hard time really following Deresiewicz's exposition frequently because either I have never read the particular novel or it has been such a long time since I've read it that I can't remember anything about it.  I think in some ways it would be much better to have all of the novels fresh on one's brain to really make the most of A Jane Austen Education.  A nodding acquaintance with the characters in the novels really isn't of much help–reading this book without really knowing the characters and storyline is sort of like sitting in on a graduate English class (in which most of the students have read the book, unlike the average undergraduate class in which most students haven't) without doing the reading.  All of that probably goes without saying; why would anyone read A Jane Austen Education without having read the novels first?  I just thought I'd warn you. 
The second problem is Deresiewicz's infrequent reference to his own laissez-faire attitude toward what most (I'm assuming here, I know) of my readers would consider the immoral or seamier side of life:  illicit sex, a reference to drug use, and a few expletives dropped here and there.  Nothing was explicit (well, except for the occasional extremely bad word), but it is present.  This wasn't shocking to me since I have spent a fair amount of my time in the aforementioned graduate level English classes (and even the undergraduate ones were far from innocent!  😉  ), but if you think a book about Jane Austen should be completely free from such issues or references, you might want to steer clear of this one.  However, I would guess that most people with an interest in such a book and a willingness to see it through to the end wouldn't be shocked by anything in this one. 
Despite the caveats I mentioned, I really enjoyed this book.  I enjoy looking at things (novels in particular) from a scholarly perspective, and in fact, I would be happy to take a graduate course occasionally if I didn't have to actually do the work in a timely manner.  😉  Reading A Jane Austen Education was the perfect scenario for me:  scholarly-but-personal discussion with no strings attached.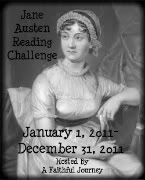 Way back at the beginning of the year I signed on to the Jane Austen Reading Challenge.  Reading A Jane Austen Education has really piqued my interest in all things J.A. once again; I hope I can find the time and intellectual wherewithal to follow through and actually read one of the novels.  I'm considering Sense and Sensibility or Persuasion. What is your favorite Jane Austen novel?  Any recommendations?
(Penguin, 2011)
(You can sample an excerpt from Deresiewicz's book here.)