The month of April has been full of poetry at the House of Hope, thanks to my commitment to participate in Poetry Friday and the Kids' Poetry Challenge.  We have also just this month begun visiting another local library, in addition to the couple in neighboring towns that we usually frequent.  I've found several poetry books on the new shelf at this library, so this has made the challenge even more enjoyable for me.  When I saw this bright yellow volume, I picked it up immediately and added it to our stack.  Who could possibly resist this cover, I ask you?  Even if you didn't know that this book is chock-full of the rollicking verse of Edward Lear, nonesense writer extraordinaire, could you pass up this whimsical cover?  The prolific Daniel Pinkwater is listed as the "mastermind" behind this volume; Calef Brown is the illustrator who captures the spirit of Lear's poetry so perfectly. 
Before I shared this volume with my girls, my exposure to Lear was limited to his limericks and reading "The Owl and the Pussycat" with them.    At first glance, I thought Lear's poetry to be a little inaccessible for my very young girls.  However, after we read through most of the poems and settled on our favorites, we had time to go back and re-read them several times so as to really catch on to what the poem is about.  The girls liked "The Pobble Who Has No Toes" and requested it over and over again.  This is the first stanza:
The Pobble who has no toes
Had once as many as we;
When they said "Some day you may lose them all;"
He replied "Fish, fiddle-de-dee!"
And his Aunt Jobiska made him drink
Lavender water tinged with pink,
For she said "The World in general knows
There's nothing so good for a Pobble's toes!"
What's more fun than a toeless, imaginary creature with an aunt named Jobiska?  Oh, yes, a toeless, made-up creature that "tinkedly-binkedly-winkled a bell"! 
My favorite poem in the collection is "Some Incidents in the Life of Uncle Arly," the poem from which the book's title is taken.  Here's the first stanza:
O! My aged Uncle Arly!
Sitting on a heap of Barley
      Thro' the silent hours of night,–
Close beside a leafy thicket:–
On his nose there was a Cricket,–
In his hat a Railway-Ticket;–
      (But his shoes were far too tight.)
The accompanying illustration is of a rather dapper Uncle Arly, staring into the eyes of the huge, green cricket perched on his nose, and with a train ticket tucked into his hatband.  Funny stuff!
In addition to the usual copywork that I've been having the girls complete from a poem each week, we also worked together to create a limerick.  Although they aren't old enough to do this alone, working together and with my suggestions for words that would rhyme, we came up with this little ditty:
There once was a girl named May

Who always had something to say.

She was hit by a rock

In the innermost tock

And then she was carried away.
I think Lear, the inventor of the word runcible, would approve of Louise's coining of the word tock, which means "somewhere in your head."  🙂  Of course, I had the girls illustrate the limerick, too. 
Reading limericks to my girls reminded me of a limerick I once wrote for an English class assignment when I was a junior in high school.  It was for one of those "literature extension" exercises for The Great Gatsby:
There was a man Nick of West Egg

Who was really too wealthy to beg

But friends he did seek

So he looked up the street

Found Gatsby, and made use of his legs.
🙂
I've poked around the internet a good bit and found some good resources related to Edward Lear and this book:
I'm linking this post up to both Poetry Friday, hosted this week by Tabatha Yeatts:  The Opposite of Indifference, and the Kids' Poetry Challenge at Brimful Curiosities.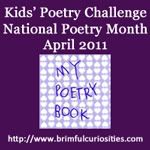 April is almost over and with it, National Poetry Month, but I have enjoyed this little exercise so much that I think I'll try to participate in Poetry Friday as often as I can in the future!