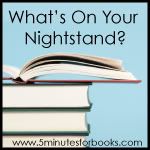 I missed participating in last month's Nightstand round-up at 5 Minutes for Books, so I was determined to not make the same mistake again this month!  Although I feel sometimes like I'm reading so little these days that I shouldn't even consider myself a book blogger, I have made a little bit of progress over the past couple of months.  Here's what I've been up to since my last Nightstand post:
Books Read (linked to my reviews):
The Ministry of Motherhood by Sally Clarkson
The Cure by Athol Dickson
I intended to write up my some of thoughts about The Ministry of Motherhood by Sally Clarkson; she has so many encouraging, convicting, and uplifting things to say!  Then I thought about trying to host an online bookclub sometime this summer, so I thought I'd save my thoughts for then.  I was still arguing with myself about whether or not I actually have time to do something like this when I saw on Sally Clarkson's blog that someone else is already doing it. The jury's still out on whether or not I can even participate myself (I have a lot going on immediately after we finish school in May), but I thought I'd pass along the link to any of you with my hearty recommendation for the book. 
The other book I never got around to reviewing is The Cure, so here's my mini-review: 
Like all of the other Athol Dickson books I've read (you can read my reviews here, here, and here), this one is a page turner.  I read Dickson's books quickly, and I don't ruminate much about them.  I'm not sure that I'd figure out the mystery, even if I did.  The Cure is a little different in that it's built on this premise:  what would happen if someone were to find a cure for alcoholism?  Would a cure have the effects that we expect or desire?  Of course, it can't be as simple as all that.  Mixed up in the story is a mystery about some missionaries.  (Slight spoiler warning!)   The denouement of the novel can be encapsulated in these verses from 2 Corinthians 12:
9 But he said to me, "My grace is sufficient for you, for my power is made perfect in weakness." Therefore I will boast all the more gladly about my weaknesses, so that Christ's power may rest on me. 10 That is why, for Christ's sake, I delight in weaknesses, in insults, in hardships, in persecutions, in difficulties. For when I am weak, then I am strong.
I am currently reading and loving The Rise and Fall of Mount Majestic by Jennifer Trafton.  I hope to post a review of it on Monday of next week.  As for all the books I've attempted and failed to engage with, they are (too) many:  Orthodoxy by Chesterton, In the Presence of My Enemies by Gracia Burnham, Lessons from the Mountain by Mary McDonough, and others.  I think my reason for not grappling with more difficult subject matter (like the first two books I listed) right now is that during this extremely busy season of my life, I need the simplicity of children's literature and more mindless fiction.  As for my not finishing (or really even properly starting) the Mary McDonough book–I just don't like celebrity biographies, although I thought I might enjoy this one since I'm a fan of "The Waltons."  Nope.  I just don't like celebrity biographies.  🙂
Of course, a huge portion of my reading time is spent reading to my girls each week.  Since my last Nightstand post, I have posted reviews of these chapter books that we have enjoyed together:
We only lack one more chapter in Rascal by Sterling North, so a review of it will be coming soon to Read Aloud Thursday.  Of course, we've read lots and lots of picture books, and this month we've been enjoying poetry, too.
As  for what I'll read next, who knows?  I alluded earlier to how busy I'll be once we finish the girls' school year; much of that busy-ness will involve having my nose buried in books for a graduate English class I'm taking in May.   I hope I can review most of those here.  I have picked the next chapter book read-aloud for the girls:  Roman Diary by Richard Platt.  We enjoyed Egyptian Diary so much I thought we'd try another one of Platt's books. 
I guess I've read more over the past two months that I first thought, and really, it's not a poor showing considering how busy I've been.  That's one reason I like doing these Nightstand posts–I can see how much progress I've made in my bookish life.