When I saw Cousins of Clouds: Elephant Poems on the new books shelf at the library, I snatched it right up.  The cover artwork is gorgeous, and I almost immediately recognized the name of the poet whose works are contained therein.  I read Tracie Vaughn Zimmer's
novel-in-verse Reaching for Sun (linked to my review) way back in 2008, but it has stayed with me, which is a sure sign of the talent of this poet-author. 
I love Cousins of Clouds.  It is a series of very different poems, all about elephants.  The title is taken from the first poem, which is about some of the beliefs that various cultures have had about elephants down through the ages.  One of my favorite poems is a concrete poem entitled "Fortress."  In it, the speaker addresses a baby elephant and recounts the way the mamas, aunties, and sisters encircle the baby to protect him.  Here's a little snippet from one entitled "Beggars of Bangkok," which is about an elephant and his mahout (handler) who make their living begging:
The mahout kicks the flesh

behind the tattered, speckled ears,

and the elephant turns–

diamonds of reflective tape

mark his giant hind

and swing on the metronome of his tail

so the cacophony of cars

will notice his shadowed form.
Isn't the juxtaposition of the ancient and the modern nice?  And I love the image of the metronome of a tail.  🙂  Each poem is accompanied by an explanatory note so that the context of the poem is made clear.  Since some of the poems are about cultures or landscapes that might be unfamiliar to the reader or listener, this is very helpful.
As wonderful as the poetry is in this collection, the other part of the equation here is the fabulous artwork by Megan Halsey and Sean Addy.  The illustrations are mixed media collages, one of my favorite forms of art.  From endpaper to endpaper, every page in this book is lovely.  My favorite illustration is one which accompanies six separate haiku poems about the parts of an elephant's body.  There's one entitled "Accessory" about the elephant's tail, which the poet calls a "tapered rope of tail" and "a fancy tassel";  the artists, of course, illustrated the tail as a rope.  The legs are called "great pillars" and "an architect's dream," so one leg is illustrated as a column.  This two-page spread of the book is marvelous.  You can see a little video clip of illustrations from the book here on the author's website.
Really, I could go on and on.  I am definitely nominating this book for the poetry category of the Cybils this year, if someone doesn't beat me to it!  This would make a fantastic addition to a study of elephants (of course!) or even if you're just looking to enjoy different forms of poetry, since this book contains quite a few.  Highly Recommended!
Related Links: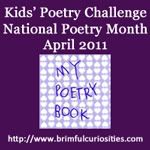 For the Kids' Poetry Challenge and in response to this book, the girls and I made collage elephants using my stash of scrapbooking papers.  Drawing is something that can really frustrate at least one my girls on any given day, especially when it's something that's prescribed.  I used this lesson plan from Deep Space Sparkle to help them draw their elephants.   Sort of.   No one is actually more eager than I for my children to simply take matters into their own hands and create, but again, an assignment to draw anything seems to sap the creativity out of them.  In fact, one of my daughters, she-who-shall-remain-nameless, doesn't like to draw or color.  She does it only because I "make" her.  :-0  I do think that art is a very worthwhile endeavor, so it's just one of those things that we do sometimes.  (By the way, does anyone have any tips for encouraging a child who just isn't interested in such things?  I don't necessarily want to make her do something she hates, but I do think there's some value in honing these skills just a little.)
Still, when it's all said and done, my art-avoiding daughter ('though to be fair, it isn't all art that she avoids–mainly just drawing or anything that requires precision) had a good time, and so did the rest of us.  There's something very relaxing about paper, scissors, and glue.  I think I need to carve out some time for some scrap-therapy soon!  🙂
I'm really enjoying sharing poetry with my girls this month.  In fact, I'm thinking that it should be something that we don't wait until next April to do again in such concentrated doses!  For more Poetry Friday posts this week, visit Random Noodling.  For more Kids' Poetry Challenge posts, visit Brimful Curiosities.