I am happy to report that we have spent some time reading poetry this week.  Let me say up front that this is actually not something my girls look forward to.  I do look forward to it, but my pulling out a book of poems is most likely to elicit a groan from my girls, and especially from Lulu.  Louise is still very much enamored of being read anything aloud, so she doesn't complain as much.  I believe that this is a worthy use of our time, not to mention enjoyable for me, so I soldier on. 
Most of the week we read from Dark Emperor and Other Poems of the Night by Joyce Sidman.  This poetry collection won a Newbery honor this year, a feat that I think is impressive, given that it's an award undifferentiated by genre.  Of course, it was also shortlisted for a Cybil, as well as honored by several other awards which you can read about on the author's website.  I have a confession:  when I checked this book out, I thought it had won a Caldecott Medal.  When I started reading it to my girls, I thought the library had made a mistake and had put the wrong type of sticker on the spine.  It was after I began writing this review that I realized that yes, this book did indeed win a Newbery honor.  All of this is certainly not to say that I don't think it's deserving; rather, it is to say that the illustrations in this book are wonderful.  Rick Allen used a method called relief printing to make the gorgeous illustrations.  It's similar, I think, to the method used in this year's Caldecott winner, A Sick Day for Amos McGee, which I love and reviewed here.  The illustrations in Dark Emperor are as lovely as the poetry.
So far I've discussed everything but what the book is about, haven't I?  Dark Emperor is a collection of a dozen poems about nighttime and, to borrow a label from the Memphis Zoo, "the denizens of the dark."  You'll find a poem about a spider, a porcupette, mushrooms, and an eft.  Of course, the owl, the bat, and the moon are here, too.  One of my favorite poems is about the primrose moth, a species I'd never even heard of until I read this book.  And then there's this poem about fungi, something my own lack of imagination would've never permitted me to dwell upon:
Like noses pink

in midnight air,

like giants' ears,

like elfin hair,
Can't you see them now?  I love these word pictures.
The other really neat thing about this book is the fact that each two page spread contains a.) a poem b.) an illustraton and c.) a column of well-written prose that gives the details of the subject of the facing poem.  In other words, this book could double as a science book.  I love that.  In fact, I could've used it when we studied owls or amphibians or spiders earlier this year. 
What else can I say?  I give this book a Highly Recommended.  I also have to note that this makes the fourth of the five Newbery designated titles I've read from this year's awards.  (These are links to my other reviews:  Moon over Manifest, Turtle in Paradise, and One Crazy Summer.)  Go Amy!  🙂
Other Related links: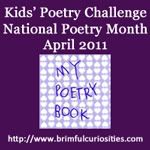 We also played along with the Kids' Poetry Challenge at Brimful Curiosities this week.  I let the girls pick a poem from Dark Emperor to illustrate, and they both chose the lovely "Snail at Moonrise."  I chose the last seven lines of the poem for the girls' copywork (a stretch for five year old Louise, really, but she handled it beautifully!), and they drew their snails.  I complicated matters by offering the girls some sparkly paint in squeeze bottles, so the project suddenly became less about the drawing and more about the fun paint they got to use.  That's a part of art, too, though, isn't it?
This poem even inspired the girls to bring a snail shell in from outside.  Unbeknownst to all of us, the shell still had an inhabitant.  When the shy creature made his presence known on Tuesday, the girls spent some time observing it.  Unfortunately, it met with an untimely demise when I planted my size 8.5 foot upon it.  🙁   As of the writing of this blog post, I still haven't broken the news to my girls.  🙁
Read more Poetry Friday links this week at Madigan Reads.