In honor of National Poetry Month, I'm linking up all my poetry-related posts here today.  I'm going to make a very optimistic prediction that I will blog every Friday in April about a poetry book we have enjoyed and then link up the posts at Poetry Friday, which is hosted around the kidlitosphere.  We shall see how this goes.  🙂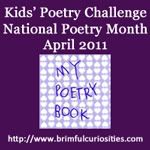 I know I've missed a few titles, but this is the bulk of the poetry books I've reviewed.  We have a nice little stack of poetry books in our library basket right now, so I'm looking forward to seeing how this little plan of mine shapes up.  🙂  I was also interested to see that Janelle @ Brimful Curiosities is hosting a Kids' Poetry Challenge in honor of National Poetry Month, too.  The girls and I just might have to play along!  Check back on Fridays to see what we come up with!
This week's Poetry Friday roundup is hosted by The Poem Farm.