Why not?  🙂
These are both two that I think I can handle since they run the entire year!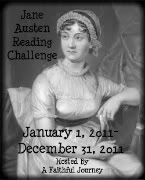 The Jane Austen Reading Challenge 2011 is hosted by A Faithful Journey.  I haven't read a Jane Austen novel since I took a graduate English class (on the English novel, I think) back when Lulu was a baby.  I have read and enjoyed one of the many, many Pride and Prejudice spinoffs that abound these days, and of course I've watched a movie version a couple (or a dozen!) times.  I don't know what I'll read for this challenge.  I remember reading and enjoying Northanger Abbey in the aforementioned class, but other than that and Pride and Prejudice, I'm sorry to say that I don't remember much.
I'm also gearing up for the Reading the Classics 2011 Reading Challenge hosted by Butterfly Wishes and Wonderland Dreams.  Since I read a lot of what I consider classic children's literature to my girls, I figured this one would be easy for me.  😉  Who knows–I might even manage to read a classic or two on my own!
It looks like I need to quit blogging and get to reading!