Never Let Me Go by Kazuo Ishiguro is one book I almost gave up on. I had wanted to read it since I had read Catherine's mention of it in an interesting post on her blog, A Spirited Mind.  Another incentive to read it came when I realized the author is also the author of Remains of the Day.  I had never read that book, either, but the movie based on this book is one of a few that really made an impression on me when I first saw it some fifteen plus years ago.  The sheer force of emotion (although actually, Sir Anthony Hopkins does a fine job of showing no emotion whatsoever in the movie, which is the point, I think) and the powerful message behind the movie (if it can be called a message) stuck with me. 
The bottom line is although I finished Never Let Me Go and am actually glad I did finish it, for the sake of the small amount of resolution I felt near the end, I still didn't like it much.  What kept rolling over and over in my mind while reading it is "This is WEIRD."  And it is.  I am certainly no stranger to anti-utopian/dystopian novels, which I guess one could classify Never Let Me Go as, but this one focuses more on relationships than it does the social or political makeup of the government under which the characters live.  The story focuses on Kathy, Ruth, and Tommy, who are children at the beginning of the story.  They live at a rather strange boarding school called Hailsham, and they accept as normal what readers from the "real" world should find strange:  a lack of family, preparation for some point in their lives when they will become "Donors," and just the overall sense of their making lives for themselves in this highly artificial environment, even though it seems that their lives have really only one purpose.  I don't want to include too many details so as to avoid spoilers, but really, it would actually be hard to do that–I remained in the dark about what was really going on in the story until almost the very end.  The main action of the story doesn't revolve around the bigger issues, but instead, around the smaller, much more intimate details of these children's (and later, adults') lives. 
I suppose that's one reason that I didn't like this story too much–I didn't want to know so much about them.  I found it annoying to be such a close  observer of the typical dynamics of Kathy and Ruth's teenage relationship.  In addition to this, the adults (and teens, I must add) in the story take a very dispassionate view of s**.  While it actually reminds me of the way society at large has come to view s** in this day and age, as well, I really didn't want to be reminded of it every few pages.  While it was only (and I use that term very loosely) mildly to moderately graphic, it was more the constant references to s** than the actual occurrence of it that bothered me. 
Still, with all of those complaints I can't say that I'm terribly unhappy that I read Never Let Me Go.  It will never make a "Best Books" list here at Hope Is the Word, but it did introduce me to a skilled author.  Ishiguro writes with a great deal of control and restraint, which makes me think that I might actually like Remains of the Day, since to my recollection that's what the movie (and hence, I assume, the book) is about.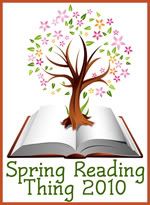 Okay, I'm rambling now.  If you're interested in this story, you might want to check out some better reviews than this one.  Janet also read and reviewed Never Let Me Go, as did Sherry of Semicolon–I think she liked it better than I did.  🙂 
I picked up my copy of Never Let Me Go at a local used bookstore because I had been unsuccessful at finding a library copy (and my library has increased its price to $5 for interlibrary loans!), and I wanted to read something from my official TBR list for this year's Spring Reading Thing at Callapidder Days.  I'm also linking this review to this quarter's I Read It!  challenge at 5 Minutes for Books.