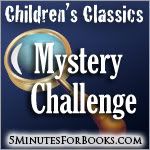 When I first learned that the Children's Classics Bookclub at 5 Minutes for Books would be morphing into the Children's Classics Mystery Challenge, at least temporarily, I began thinking about some old favorites of the genre that I might want to re-read.  So far I've reacquanted myself with Trixie and introduced my girls and myself to The Boxcar Children for the very first time.  What I was most excited about, though, was rediscovering Phyllis A. Whitney's juvenile/young adult mysteries.  So far as I can tell, these books are out of print, so I wasn't sure how I could get my hands one one of them to read.  Well, it turns out that one of libraries I frequent has quite a few of them still in circulation!  (For any of you librarians out there reading my blog, there's something to be said for being a generous weeder!)  I checked out a different one every time I went to that library, but this past week I finally got around to reading the latest one I brought home.
Mystery on the Isle of Skye
 by Phyllis A. Whitney is a great book that definitely deserves a second look, especially if you have children who love the genre of mystery.  I would classify the writing in this book as several notches literarily above Trixie,  Nancy Drew, or any of the other serialized mystery collections that are so popular.  According to the official Phyllis A. Whitney website, these juvenile mysteries are stand-alone novels.  Mystery on the Isle of Skye is the story of twelve year old Cathy MacLeod, a girl orphaned at a young age who has been raised by her beloved grandmother until lately.  Her grandmother has become sick, so Cathy must leave her to go and live with her Aunt Bertha, a woman who obviously has no understanding or love for children.  Before she moves, though, Cathy has an opportunity to travel with her mother's brother's family to the Isle of Skye, an island in the Hebrides off the coast of Scotland.  This is a trip that she and her grandmother had always planned to take, since Skye is her grandmother's original home.  However, her grandmother encourages her to go on this trip, since perhaps this is the last opportunity Cathy will have to make it.  Cathy goes reluctantly, and she behaves shyly with her Aunt Lila, Uncle Jerry, and cousins Don and Punch.  Don is a few years older than Cathy, and it is Don whom she has a particularly difficult time getting to know.  This book is really about relationships.  It's about Cathy trying to find her place to fit in her family, a family she doesn't know.  This aspect of the story if very realistically told, with Don behaving like a typical adolescent boy who prefers first of all not to even go on the trip and secondly not to be mothered too much if he must go.  Cathy has many of the internal doubts that pre-adolescents face:  what if they don't like me?  Why don't they like me?  What can I do to get to know them better?  In the end, Cathy learns to stand up to Don for her herself, and she likes herself better (and he does, too) for it.
So where does the mystery come in?  Ah, that's the fun part.  Cathy's grandmother gives her a satchel containing packages to unwrap before she leaves the U.S.  She has specific instructions concerning each package:  where to unwrap it, what to do with its contents, etc.  One even says that it will tell her when it should be opened!  (Talk about mysterious!)   Cathy sets out to accomplish these tasks, and her motivation is mostly just that her grandmother asked her to.  Most of them contain objects from Skye that Grandmother wants her to return, etc.  Through the completion of these tasks, Cathy makes some friends in Skye and even meets the Chief of the Clan MacLeod and has tea at Dunvegan Castle.  In the end,  it's through the building of all these relationships that Cathy discovers the path she will take for the future. 
This book contains quite a few references to Scottish mythological characters like Sith (not the Star Wars kind–the Wee Folk kind) and Selkies.  Whitney describes the mountains of Skye is such a way as to evoke the feeling of "magic" that Cathy expects to be there, thanks to her grandmother's many tales during her childhood.  This book provides a really good description of the Isle of Skye; I got the feeling that Whitney wrote about it just as she discovered it when she visited the first time. 
My copy of the book looks nothing like the above cover I snagged from Amazon.  It turns out that the original cover (please do click the link to view it!) is copyrighted and can't be borrowed without permission.  I was shocked to learn, though, that Ezra Jack Keats created the original cover illustration.  He's one of our favorite author/illustrators here at the House of Hope, and I just think it's neat that his influence spread even to the "Queen of American Gothics," which is one of the very prolific Phyllis A. Whitney's titles. 
I'm really glad I took the time to hunt this book up.  It's a good one!  For more Children's Classics Mysteries, visit 5 Minutes for Books!