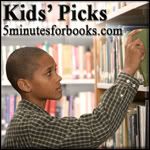 I haven't participated in the Kids' Picks carnival at 5 Minutes for Books in a long, long time–almost a year, in fact.  Most of my Read Aloud Thursday posts are books that I think are worthwhile;  while my children usually also enjoy them, I am usually the one who picks them out at the library or buys them.  Today's pick, though, is entirely my girls'.
The Princess and the Pizza by Mary Jane and Herm Auch is a twisted or fractured fairy tale, a takeoff on the Hans Christian Andersen tale "The Princess and the Pea."  It's the story of Princess Paulina, lately dethroned due to her father's penchant for woodcarving over reigning.  Princess Paulina needs a job, but the sum total of her skills involve only things that a princess does–walking the peacock in the royal garden, surveying the kingdom from the tower, and princess-waving.  When she hears that Queen Zelda of Blom is looking for a bride for her son, Prince Drupert, Paulina decides to apply for the job.  Predictably, the first task Queen Zelda sets before the hopefuls is the old stack of mattresses.  In the words of Paulina:  "Oh, for Pete's sake.  The old princess-and-the-pea trick.  That's so once-upon-a-time."  After several more tasks are given and accomplished, the final gauntlet is thrown down:  make a feast with only the ingredients provided.  When Paulina is left with only flour, yeast, water, tomatoes, and cheese, what does she make?  Pizza, of course!  Her pizza wins the prize, but Paulina has other plans:  instead of marrying, she opens Princess Paulina's Pizza Palace where she serves fifty different kinds of pizza.
My girls love this story, though admittedly it's not one that I'd pick out.  The fonts used on the cover and in the text of the story are a turn-off to me, sort of comic-sans-ish, and yes, I occasionally do judge a book by its cover.  It also gets pretty close to being a little too girl-power–rah! rah!  for my taste.  However, there's much to like about it, too–it's slightly irreverent in a fun way that my girls find humorous, it contains lots and lots of alliteration, and it's just plain old fun to read aloud.  My girls definitely give it a Highly Recommended.  (Holiday House, 2002)
Books 4 Learning and Literary Transgressions has kicked off a fun, new meme called Fairy Tale Friday.  I'll be adding this post on Friday.