We've taken several opportunities this month to get outside and intentionally observe and enjoy nature.  In addition to our dogwood tree study, we also focused on that harbinger of spring, the robin, one Fun Friday this month.  On that particular day we went to the library and had a picnic at the park with Steady Eddie.  Since this park is right across the street from the library, we walked, and Mr. Robin obliged us by perching beautifully in one of the trees on the library lawn.  Of course, we took a moment to really look at the bird and notice as much about its colorings and markings as we could before it flew off.
At the park we enjoyed watching the antics of a squirrel that loved our dropped (and tossed!) Goldfish crackers.  I even watched a tiny little bird (I wish I were better at bird i.d.!) try to make off with one of the crackers, but the Goldfish was just too big!  Steady Eddie even tried to photograph down inside the hole in the tree trunk, thinking this might be the squirrel's home.  (Nature study has definitely become a family affair! 🙂 )
When we got home I uploaded our pictures and enlarged Mr. Robin and printed it out.
Using the knowledge I gleaned from The Handbook of Nature Study, we once again talked about the colors and markings of the robin.  Then I handed the girls a robin picture to color from the Notebooking Treasury North American birds collection. (My affiliate link here.)  I instructed the girls to do a good job of coloring the robin as true-to-life as possible.  Using the picture for their model, they colored and listened to an mp-3 recording of chapter five of The Burgess Bird Book (as suggested by Barb in her robin study post).  I also had them write down something they learned from the story at the bottom of their coloring page.  Sometimes being patient with an assignment like this is tough for one of my girls, so I'm particularly proud of the attention to detail here.
Something else we did this month was simply go for a walk around our neighborhood and observe signs of spring.  When we got home, I wrote our observations on the list Barb always provides in her newsletter.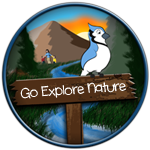 Last week, in lieu of some other formal nature study, we simply went on a photo scavenger hunt using the list from Go Explore Nature's Get Outside Photo Scavenger Hunt list.  I handed the camera over to the girls (which thrilled them to no end!) and we took turns going down the list (skipping items we couldn't find, etc.) until the camera battery died a very sudden death.  I thought the girls did a lovely job in their photographing of #3 (sky) and #6 (flower).  That little maple tree is my contribution.  Isn't the deep purple lovely?
This month we also planted a butterfly bush, the beginning of our very own butterfly garden.  The single biggest contributor to our enjoyment of nature, though, are our bird feeders.  Seeing our familiar friends at our feeders daily really makes us stop and appreciate nature.  I hope I can share some of the photos I've taken the past couple of months soon.  (Most of them are frequent visitors, so you can see them here.)  Steady Eddie and the girls surprised me Saturday with a new bird feeder station for our backyard.  I'll share a picture of it soon.  My enthusiasm for bird watching has definitely been contagious.  🙂