Did you hear that?  That was a huge sigh of relief I just breathed, knowing that spring break is here.  I don't know about you, but my homeschooling (and my enthusiasm for it) is somewhat cyclical.  I can go for so long being really energetic and enthuasistic about it until I hit a wall or until something else screams for my attention for a while.  I think that's okay, really.  I remember reading Melissa Wiley's tidal homeschooling posts and wondering if I of the box-checker mentality could really ever embrace low-tide homeschooling, and I'm here today to say that yes, with lots of "talking myself down" at first, I think I can. 
What has precipitated this talk of low tides and the hungering after spring beak, you might ask?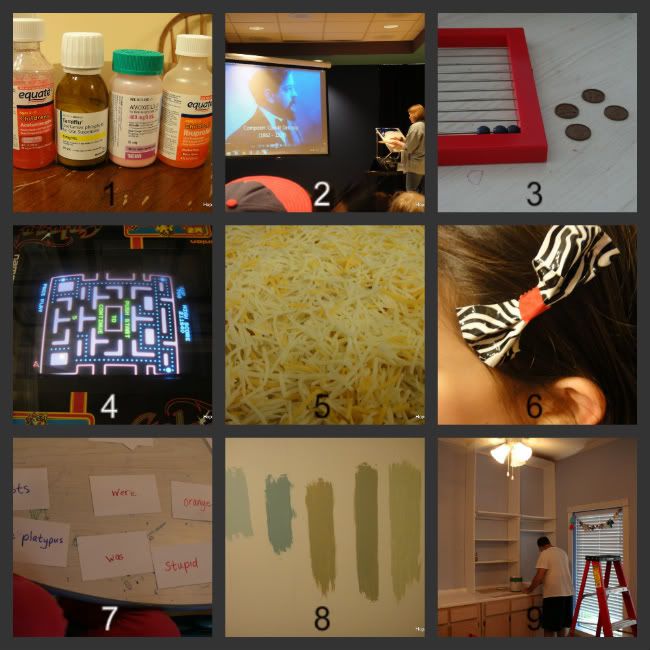 1. I have been a leeetle distracted this week thanks to an ear infection that morphed into the flu for the DLM (or maybe the flu was lurking all along only I hadn't the foresight to request a flu test on the first $35 trip to the doctor).  Anyway, what this means is that we've given a lot of medicine this week (including the $100 prescription of Tamiflu, plus a $200 preventive prescription split between the girls), not slept a whole bunch for a couple of nights, and held a sad little fellow a bit more than normal.  Oh, and in the middle of it all, Steady Eddie managed to get sick, too.  The plus side to that is that he has been home much of the week, but the downside is that he has felt rotten, too.
2.  While we thought the DLM only had an ear infection, we left him in the care of my parents and traveled to the nearest Classical Conversations community to take in a meeting and experience it in practice.  The chapel meeting (or whatever it's called) captivated me–a real artist (one of the moms) finger painted to Claude de Bussy (!!!) and then had the students create their own art to another deBussy arrangement.   Wow!  The meeting with the tutor was fun and high-energy and we all enjoyed it.  Unless something major happens to change our minds, I think we'll be joining up next year.
3.  Math happened this week, although thanks to Steady Eddie, I only actually oversaw a couple of the lessons.  Louise completed lessons 13 and 14 in RS B which entailed working with money.  So far she hasn't had any trouble with any of the concepts or lessons presented in RS B.  She also did some addition problems from Math Mammoth.  My goal for Lulu was to come to a natural stopping place since next week is spring break, so she completed lessons 92 and 93.  She finished up lesson 92 at Steady Eddie's office while I had the DLM at the doctor's office, and Steady Eddie worked with her on lesson 93, a review lesson.  She still needs more practice on subtraction, so Steady Eddie had her do some more problems from Math Mammoth, too.  I hope we can squeeze in some card games next week.
4.  The girls got to play old school Mrs. Pac Man this week, which has nothing whatsoever to do with school but is perhaps indicative of how scattered this week has been, at least to me.  The girls and I all three had dentist appointments mid-morning on Wednesday, and one of the many cool attractions at the dental practice (which Steady Eddie and I have both used since we were teenagers!) is a table-console Mrs. Pac Man/Galaga game.  It almost takes the sting out of going to the dentist.  😉
5.  Chicken spaghetti–the Pioneer Woman's recipe.  You wondered how I'd fit that in there, didn't you?  I made a double batch–one for us to eat, and one to share with my pastor's family.  Even the DLM approves!  It felt good to cook again–cooking has sort of fallen off my to-do list in all my busy-ness with working on the weekends and the girls' afternoon and evening activities. 
6.  Would Charlotte Mason count duct tape crafts as handicrafts?  I think so!  The girls have been busy creating this week.  They started with bows and moved onto handbags and purses, thanks to YouTube. 
7.  Language and writing also happened this week.  We've begun reviewing the parts of speech in language, and Lulu enjoyed making humorous linking-verb sentences:  The platypus is stupid.  (Stupid is usually a pseudo-dirty word around here, so any chance to use it is welcome!  😉 )  In addition to FLL 77-79, we worked through three days of WWE week 25.  Watching the Susan Wise Bauer video "Dictation with Dan" (posted here–scroll down) really helped me slow down and walk Lulu through the sentence since they're becoming longer and more complex. 
8.  I think I've decided on paint colors for our family room and dining room.  Hint:  it's not one of these; I bought more samples after taking this picture. 
9.  The remodeling and revamping and rearranging continues.  Steady Eddie is a trouper and highly motivated to finish the job.  We're currently rearranging books. 
We also did a bit of history (SotW II ch. 13, a review), concentrated handwriting time (go me!), and step 7 in AAS II for Lulu. 
Louise completed two lessons in OPGttR and read aloud to me and Steady Eddie.  Our favorite resource of the week (besides duct tape!) is the Maestro Classics version of Swan Lake.  The girls have listened to it over and over again as we've run errands (mostly to Home Depot to pick out paint), and even the DLM has enjoyed it.  (I reviewed Maestro Classics here.)  I think it's time to pull out the other songs and stories we own! 
That's it for me this week.  Books and paintbrushes are calling my name.  It has been a topsy-turvy sort of week, but we're mostly on the mend and so thankful to be able to take some time off to work on the projects around the house that have been calling our names for far too long! 
How about you?  Is it spring break for you, or how do you handle breaks?