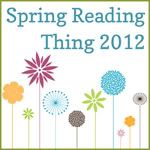 I'm joining in the Spring Reading Thing at Callapidder Days this year with a plan.  My reading lately has been rather unfocused.  I'm having a hard time reading anything besides something easy and relatively mindless.  While I'm not eager to begin something right now that really taxes my brain, I do have some things that I want to get to sooner rather than later.  Since there are 13 weeks between March 20 and June 20 and I usually average about a book a week, here's what I plan to read:
My Bible.  No, not the whole thing.  🙂  I plan to read at least one chapter a day

every day

before I read anything else, including

your

blog.  😉 I'm putting this out there to hold myself accountable.  (I'm not counting this in my total, either.  It should be a given!)
Reading to Know Book Club titles:  there's still time for February's title, The Pilgrim's Progress.  (I'm going to give myself a little leeway for this one–if I find I just can't force my tired brain to wade through the language when I try to read this one in bed at night, I'm going to be satisfied that I read Little Pilgrim's Progress to my girls, which is one of our current read-alouds.)  I'm excited about picking a P.G. Wodehouse title for April, and then it's

my

pick in May–The Adventures of Tom Sawyer–so I guess I'd better put it on my list! 
Lit!:  A Christian Guide to Reading Books by Tony Reinke.  This one has been on my TBR list for far too long!
Something by the author Daphne Simpkins. 
She will be speaking in April for National Library Week at the university where Steady Eddie and I both work.  I don't know anything about her or much about her novels, but I think it's a great opportunity to get out and meet an author.  
I have several ALA Youth Media Award-winning books lined up to read:  Dead End in Norvelt by Jack Gantos, Inside Out and Back Again by Thanhha Lai, and Where Things Come Back by John Corey Whaley. 
6.  Enemies of the Heart by Andy Stanley
was a birthday present from my dear mother-in-law, and she says it's a must-read.
7. 
Since we're fairly certain we'll be joining a Classical Conversations community next school year, I really want to read Leigh Bortins' The Core.
8.  I was intrigued by
the whole idea of Free Range Learning when I read an article by its author, Laura Grace Weldon.  This might be a bit much to read in a week, but we'll see. 
11.  I want to read something else for Semicolon's North Africa Reading Challenge–maybe something from this list. 
10. 
I'd still like to read a Bess Crawford mystery, and I'd love to participate in the Book Time with Bess Read-Along at Book Club Girl as I can.  There are four of those books, so I guess that would push me over my thirteen book goal, huh?
11. 
And since I'm already over my thirteen, I think I'll add City of Tranquil Light by Bo Caldwell.  Sherry's review piqued my curiosity and Alice's pushed it from my "maybe" to my "must read" list. 
That's a very optimistic list for me.  I like having some priorities in place, though.  I'm planning for every book I read in the next three months to be from this list!  (Of course, books I read to my children don't count.)  Now if I can just manage a bit of self-control and quit reading so many of blogs!
How do you prioritize your reading and your time?