In children's literature, mouse stories abound.  There's Ralph S. Mouse of The Mouse and the Motorcycle, Stuart Little, Mrs. Frisby, The Rescuers, Charlotte's Web (not a mouse story, really, but who can discount the importance of the rat, Templeton?), Tumtum and Nutmeg, and I know there must be more.  The mice of Richard Peck's new book, Secrets at Sea, certainly belong on that list of distinguished mice heroes and heroines. 
Secrets at Sea is the story of the Downstairs Cranstons, a mouse family that includes the consummate older sister, Helena; two younger sisters, Louise and Beatrice; and their brother, Lamont.  Life continues predictably in their Cleveland home until Louise, who has made a special friend of the Upstairs (human) Cranston daughter, Camilla, announces that the Upstairs Cranstons are all a-bustle over an upcoming trip trans-Atlantic voyage to Europe.  The purpose of this voyage?  To find the other Cranston daughter, appropriately named Olive, a husband!  What are the Downstairs Cranstons to do?  Helena consults Aunt Fannie Fenimore, an ancient, bespectacled, crystal-ball peering crone of a mouse, and decides to take the Downstairs Cranstons' future in hand.  Although deathly afraid of water, Helena decides they should accompany the Upstairs Cranstons on their trip across the Atlantic.  What follows is an adventure story that includes romance, mystery, and more brushes with royalty than one can count.  Along the way, Helena learns that her sisters and brother might just get along fine without her, and she might be able to have an enjoyable life of her own.
I loved this story, but then, I am quite a fan of Richard Peck's style.  I've only read his historical fiction, including A Long Way from Chicago, A Year Down Yonder (both not-to-be-missed award winners!) and Here Lies the Librarian, but Secrets at Sea lived up to my expectations of laugh-out-loud, wryly funny observations and strong, strong characterization, with the added bonus of being about mice.  Helena, who narrates the entire story in a very sardonic manner, is very much aware of her small place in the world.  For example, the Downstairs Cranstons (and indeed, all the mice in this very civilized story) wear clothing while they're in their own environs.  However, as Helena remarks,
But of course we don't dress like this when we're out someplace where we might be seen.  How could we?  We're mice.  (8)
Small?  Yes.  Powerless?  No.  From rescuing the rapscallion Lamont's bitten-off tail from a haystack dwelling snake to becoming the Assistant Mouse-in-Waiting for the Royal Princess Louise, daughter of Queen Victoria, Helena is never at a loss for words or how to handle any situation.  The absolute best part of the story, even better than all the societal observations and adventure, is Helena's voice.  With tongue-in-cheek references to her mortal enemy, cats, and the repeated refrain that mice dream of two things, cheese and time running out, Helena's capable and sarcastic voice is very adult in its humor.  Although series fiction usual wearies me, I wouldn't mind reading more about the Downstairs Cranston's adventures, especially now that they've all found their places in society and service. 
I had planned to give this one to Lulu for Christmas, but I ended up not wrapping it up for her for two reasons:  first, in the interest of sibling fairness, I only had one book each for Louise and the DLM, so I thought better of it, since I already had a copy of Caddie Woodlawn for her.  Second, I just wasn't sure she was really old enough for it yet.  Although there isn't anything that I find really offensive in it, there are a couple of instances of one of the Downstairs Cranston sisters dreaming her boyfriend and a very funny but a tad bit vulgar/crass (but very funny!) instance where one of the mice saves the day by appearing in a very unexpected place, a lady's décolletage.  Readers of Richard Peck know just the type of humor he is best at:  sophisticated, unexpected, sarcastic, and very often a commentary on society, somehow.  Add to that the fact that the setting for this story is high society during the Victorian period, and there the humor potential goes way, way up.  I think Lulu might better appreciate this story when she's a bit older, but I give it a Highly Recommended for (maybe?) ages ten to 110.  It's good! (Dial Books for Young Readers, 2011)
Reviews elsewhere: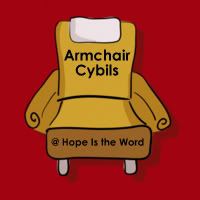 Although Secrets at Sea didn't make the shortlist for middle grade fantasy/science fiction, it was nominated.  I'm including it in my Armchair Cybils challenge.  (I actually read it before the shortlist was announced, and I had high hopes that it might be a finalist!)