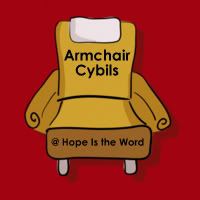 And now it's time for a break in the perfect surfeit of Christmas books that Hope Is the Word has been lately.  🙂
I am happy to announce that in addition to the aforementioned Christmas stories, I have also been immersed in Cybils nominees this month.  Since last month's Armchair Cybils post, I have read the following:
I've actually read more than that; that's just all I've managed to review.  More reviews are coming, never fear!
In the first Armchair Cybils link-up post, I promised to share a Cybils blog I enjoy reading.  This month the spotlight falls on Book Nut.  Melissa is a round 2 middle grade fiction judge.  I enjoy reading her blog for the scoop on middle grade, young adult, and even some adult fiction.  Although some of what she reads is outside my realm of interest, I find that I agree with many of her reviews of books I have read, and she isn't afraid to call it like she sees it.  Check out Book Nut!
It's only about two weeks before the short lists are announced (fifteen days, to be exact!), but there's still time to join the Armchair Cybils challenge!  The next link-up post will be on January 1 when the short lists are announced.  That linky will be for your short lists thoughts, as well as any other book reviews you've read in the time from now 'til then that you want to link up.  My post with the linky will go up later in the day since I'll have to have time to peruse the lists and formulate my thoughts, so you don't have to get up at the crack of dawn to participate.  🙂  Isn't this exciting?!?!
All right–enough of that!